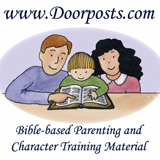 Want to find a fun way to encourage your daughters to learn more about Proverbs 31? A way to teach your daughter basic craft skills, cooking, and sewing? Why not check out "The Ruby Doll."
This doll was designed by a homeschooling family and available on their website Doorposts.com. It is a pocket- size and easy for you to make together with them.
Here is what they have to say about it…
"After making the dolls, your daughter can go on to learn simple basic homemaking skills as she makes:
Ruby's real purple silk dress
Ruby's tapestry coat with glittery hand embroidery
A tiny market basket full of dough-art fruits and vegetables
A batch of bread sticks for your dinner and tiny loaves of bread for Ruby's market basket
A miniature basket filled with real combed wool, a tiny drop spindle, and colorful wool yarn.
Scarlet winter clothing for all of Ruby's family
Miniature gardening tools for Ruby to use in her vineyard
A tiny dough-art candle holder that will hold a real birthday candle
Tiny, real linen sashes for Ruby to sell to the merchants
A velvet drawstring bag for storing Ruby and her family"
Thank you Forster family for this wonderful Proverbs 31 Doll.
If you like what you read, check out our children's book, Hooked on the Book, on this website.  It is great for parents and kids because it provides the Big Story of God's miraculous plan for His children in all 66 books in the Bible including colorful illustrations, rhymes and a surprise on every page.  
Related Posts